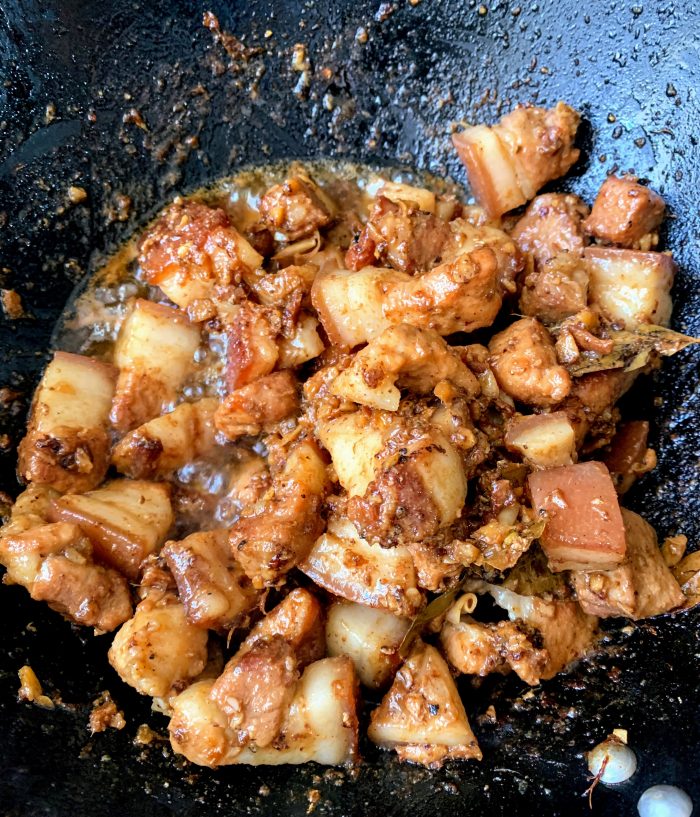 Months before "flatten the curve" entered everyone's lexicon was this worknight when I joined two of my friends for beer after working late. When my order of fried chicken came sans the sides, I unpacked my baon, still piping hot from the office microwave two blocks away, seven floors up. (I had asked the waitress if I could sneak in my baon, as I was – and I half-winced when I confessed this to her – lessening my rice intake. Quite odd to disclose this on a blog that celebrates extra helpings of it…) Talk swerved to food, perhaps insinuated by my baon, chopsuey and, yes, boiled garbanzos. My friends confided a persistent problem most twenty-something city dwellers have: They only have a tiny kitchen with a portable single gas burner and a mini fridge. What can you cook with that space?
With limited arsenal, I immediately thought of one dish: adobo. However, the mere mention of it always merits the follow-up question: "How do you cook your adobo?"
"There are as many adobo recipes as there are Filipino cooks." Angela Dimayuga
Food historians could only agree on adobo's definition: it is a protein, usually pork or chicken, that's simmered or cooked in vinegar, garlic, salt and pepper. A lot of us Filipinos hastily explain to foreigners that adobo is brought about by Spanish colonization, but a lot of studies, notably on Philippine traditional vinegars* point out that these ingredients have been present in the Philippines way before Magellan reached our islands – the journalist and food historian Raymond Solokov called this process "lexical imperialism". Upon naming the dish that our ancestors have been making for centuries with a Spanish name (which is their word for sauce), the Spaniards ended up rewriting our culinary history. (A great read: There's nothing Spanish about adobo – should we ditch its Spanish name?)
Another mind-blowing discovery: Soy sauce is a Chinese contribution – so it's not as essential as the other five ingredients. This fact took years to sink in – I grew up in a household who knows adobo with soy sauce! I recently found a recipe of adobong puti (white adobo) from Marketman, which is close to the way our ancestors used to do it: using our traditional (coconut, nipa, sugar-cane) vinegar as a preservative when refrigeration was nonexistent. It is a revelation: its color (or the lack of it) betrays its complexity. Without the assertive flavor of soy sauce, the saltiness is more nuanced. It's an exercise on restraint, and I would highly recommend anyone who couldn't imagine an adobo without soy sauce to cook it and see for yourself.
Continue reading

"The dry adobo"