I will be straight to the point: I rarely have the time to read, write or listen for leisure these days. My reading pie chart would most likely be dominated by work emails (78%), news articles (10%), email subscriptions (9%), and the occasional wandering into print or digital books or magazines (a measly 3%), the print ones piled up in our living room's center table, my head entitling it as Things to Read. Reading gets done1, but progress is rarely felt. My writing is mostly done in Notion because it has served as my digital diary these days, just because I like the interface better. Listening is worse: a cascade of Teams calls. I finished gym yesterday when it played Kendrick Lamar's hits ("Money Trees", "Swimming Pools", "HUMBLE.", "LOVE.") and thought: How did it not occur to me to listen to music these days? Not when I was in Singapore last week for work, not in Changi's Pret a Manger, not on my way home – these past two weeks were frenetic, sound-less, its only rhythm comprised of work-related pings, clicks of mute buttons, clacks of keyboard for emails, more sporadic clicks on Excel sheets, barely audible mm-hmms2. On my last day in Singapore, I was only able to go to Thambi Magazines at Holland Village via train (which took me about 45 grueling minutes, as I had to switch from the MRT's brown to blue to yellow lines, and vice versa), with an underwhelming selection (what to make out of the rave reviews online?!) and which does not accept credit cards, so I wasn't able to buy a magazine called the Joy Luck Club as I ran out of cash. I wish I went to Kinokuniya instead, which is about three blocks away from the hotel.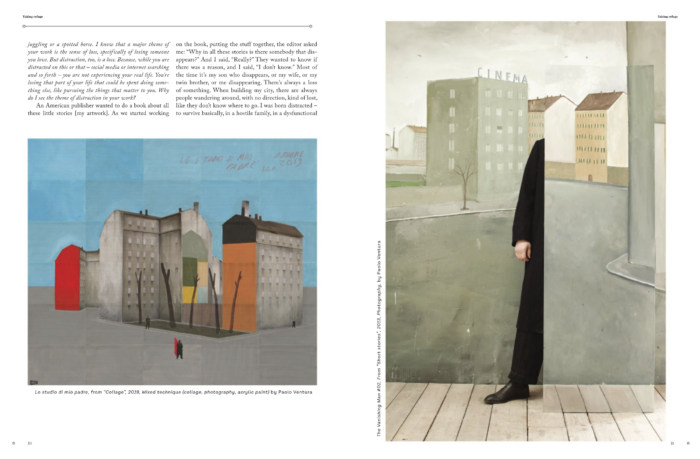 The New Philosopher had its recent issue on distractions, and there was an article on artist Paolo Ventura, about how his family resettled from a high-maintenance, workaholic life in New York City all the way to an estate he inherited from his father in a remote town in Tuscany, where he grew up. "It was not until we had left New York that we realised that New York tries to make you think that without being in New York, you're lost – dead basically professionally." The next few paragraphs read like an indie film plot: he makes a workshop out of the house, painting made-up cities and buildings on walls, not unlike those done by Magritte, then taking photos of these with his family in costume to create surreal photographs. I like the part when his American publisher asked him why there was this recurring motif of disappearance in his photos – here was his response:
"...and I said, 'I said, I don't know.' Most of the time it's my son who disappears, or my wife, or my twin brother, or me disappearing. There's always a loss of something. When building my city, there are always people wandering around, with no direction, kind of lost, like they don't know where to go."
---
1. One is about the cough syrup deaths among children in Indonesia (with an elegant opening paragraph, via The Guardian) and another is about doctors being distracted by using smartphones for personal use, otherwise known in social sciences literature as 'off-task smartphone use'. (Distracted Doctoring by Tiger Roholt via The New Philosopher).
Also, there was that chapter of David Foster-Wallace's "Federer Both Flesh and Not" about being smitten with, erm, Roger Federer. I do not really know what to make out of it: too much adulation. It is a fine piece on tennis, with great use of metaphors to describe the sport as a religion and the competition as warfare, but a horrible take when read as a profile or a quick biography. It read like a well-written paid advertisement to me.
And I was just halfway through the first chapter of Reynaldo Ileto's "Pasyon and Revolution", a fantastic piece on Philippine history, offering an alternate and equally valid perspective of reading and writing history.
2. The only exception for music are Ambient Warrior's "Oceanic Dub", which was sublime in a hotel room, while cramming for next day's PowerPoint slides, and the heart-thumping song "Eulogy" by Tool.