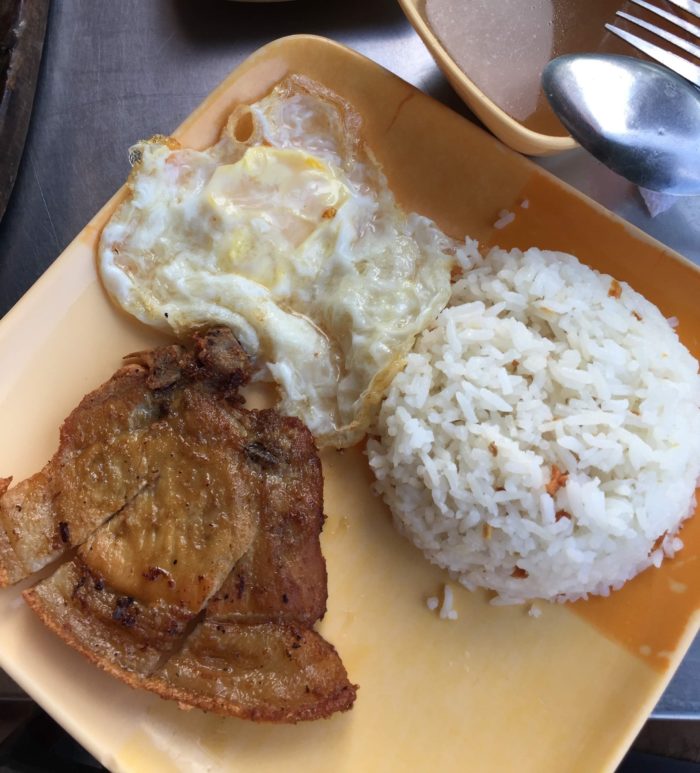 There's always that point in one's life when, over empty plates, leftovers and crumpled table napkins, a group of friends would broach the question: What would you have for your last meal on earth?
Some of my friends already had things in mind (truffle pasta, bacon…) while others, like me, were scrunching up our faces. Up to this day I couldn't decide what I would like to have in that fateful day, but you know what? Maybe I'd go for a Pinoy-style porkchop.
I wax poetic at my workplace – or anywhere! – when talk swerves to food (us Filipinos can't help but talk about food while eating, no?) and as most of the talk about food lead to comfort food, I'd always say porkchop in a heartbeat, vividly recalling each slab I wolfed down as a kid. Curiously, no fastfood chain offers one, so I settle for fried chicken.
My Pinoy-style porkchop recipe
The last time I cooked Pinoy-style porkchops was probably back in college, not as a dormer, but at home, where I have time to clean oil splatters. Well, this has little to do with the mess that cooking slabs of it entails, or the sheer amount of grease it has, as it is about the fear of disappointing myself. I know I won't come close to the one I had as an overweight kid, the way my sister does it: she lets each half-inch slice of pork chop soak up the marinade of fish sauce, salt, pepper and kalamansi overnight. The next day, she boils each in maybe half a cup of water for fifteen minutes or until tender, then set it aside to cool. She keeps it in the fridge, in one of those round Tupperwares we had, ready for a ten-minute shallow-fry (or a light sear, whichever you prefer) in a kawali at any given day.
The result is meat that gets that irresistible chew, a trim of fat that melts in the mouth, miraculously adorned by browned nubs of umami, and that wonderful lard-varnish. I personally recommend pairing it with my favorite dip: liquid seasoning artfully swirled in banana ketchup. Bonus if you can get more of those browned nubs by scraping it off of the kawali with a siyanse!
What's even better? Every single time a porkchop is fried in that kawali, the cooking oil inches up and the flavor profile gets so complex that by the ninth porkchop, triglycerides be damned, it's impossible not to find yourself drizzling a spoonful of that glorious lard on garlic rice, or reusing it to fry eggs for breakfast.
Atoy's vs Tuding's
So imagine my glee every single time I see a porkchop eatery cropping up closer to where I live. Laguna has two porkchop 'houses': Atoy's and Tuding's, both originated in Biñan, Laguna. In towns where both have branches, I imagine that locals have to pledge allegiance to one or the other. As a Laguna transplant I don't see the need to do that, but visit both with such gusto that my wife just recently dubbed my trips to these as a pilgrimage.
Both houses have humble origins: Atoy's and Tuding's, names of the home cooks-cum-entrepreneur, started out as a carinderia in the '80s. Both serve their porkchops with a cup of garlic rice and fried egg – and you can specify however you want your eggs fried in that glorious lard: malasado (with runny yolk), tostado (toasted), etc.

Both also serve terrific soup – a heavenly broth with the essence of hundreds of slices of porkchops. Tables in both stalls also have the trinity of condiments: ketchup, soy sauce and vinegar, and it's de rigueur to use all three at some point, swirling one over the other, in the same saucer, pausing for a moment to taste and do the adjustments. Although not one of their stalls serve alcohol, they make superb pulutan.
Atoy's Porkchop
Atoy's serve their porkchops with rice and fried egg. Most of the branches I've been to have thicker slices of porkchop than the Tuding's branches I've been to.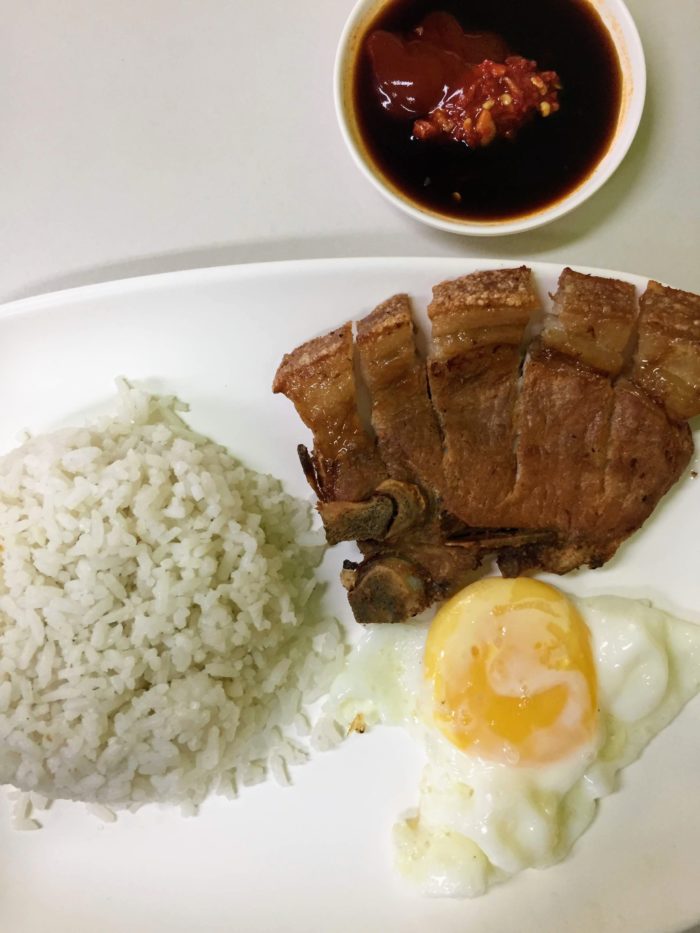 Unlike other branches that are dingy and dim at best, Atoy's branch in United – a subdivision in San Pedro, Laguna – gives you the option to dine al fresco. On blistering summer afternoons, you can scoop out as much tube ice as you want from their cooler to fit in one of their tall plastic glasses. I cram all the ice in there and leave little room for water, which makes it a great thirst-quencher.*
Atoy's has its proprietary chili paste, available upon request, which I'd like to think is similar to sambal – basically, red chili blitzed in a blender. They give you a resealable plastic tub full of the stuff, and in the true spirit of self-service, you can scoop as much as you can, as long as you return that tub to the counter. (In the face of the chili crisis last year, when chili prices skyrocketed, their Calamba branch had to be stingy, giving only one scoop on a saucer.)
Tuding's Porkchop
Tuding's serves their porkchops with fried egg on a bed of loose but fluffy fried rice. Each slice is thinner than Atoy's, giving it some chew similar to beef jerky. Unlike some of the Tuding's branches I've been to, their branch in Calamba is well-lit: a huge expanse of steel chairs and tables walled in by glass. I'm not sure if they also have chili paste?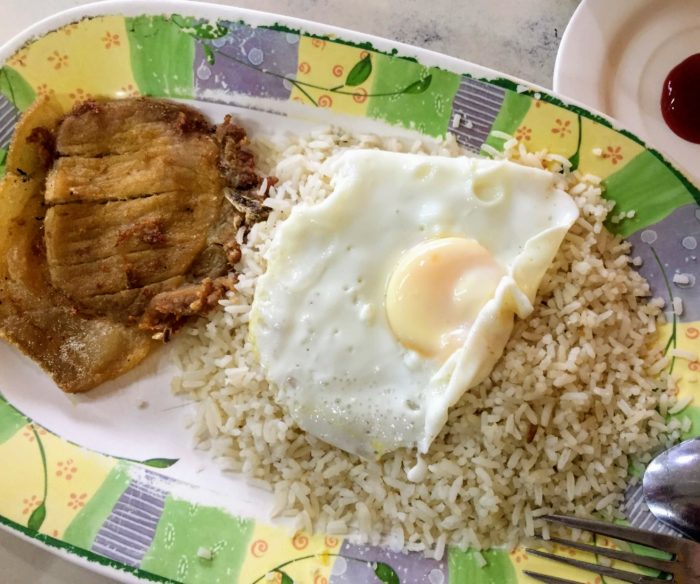 The difference?
Atoy's costs four pesos more than Tuding's (Php 72 vs Php 68), there's no remarkable difference between the two. After trying five or six different branches (and if I could go back in time to that fateful day when Atoy's still had that branch near UPLB), I don't think I can ever be confident to finally settle the score between the two, or pledge allegiance to one of them. Aside from Atoy's disastrous lime green-and-tangerine wall color and Tuding's bare carinderia chic, they're both straightforward and unfussy about porkchops. It's greasy, cheap and comforting – and it tastes a lot like to the porkchops I had as a kid, without cleaning up the oil splatters.
---
Further notes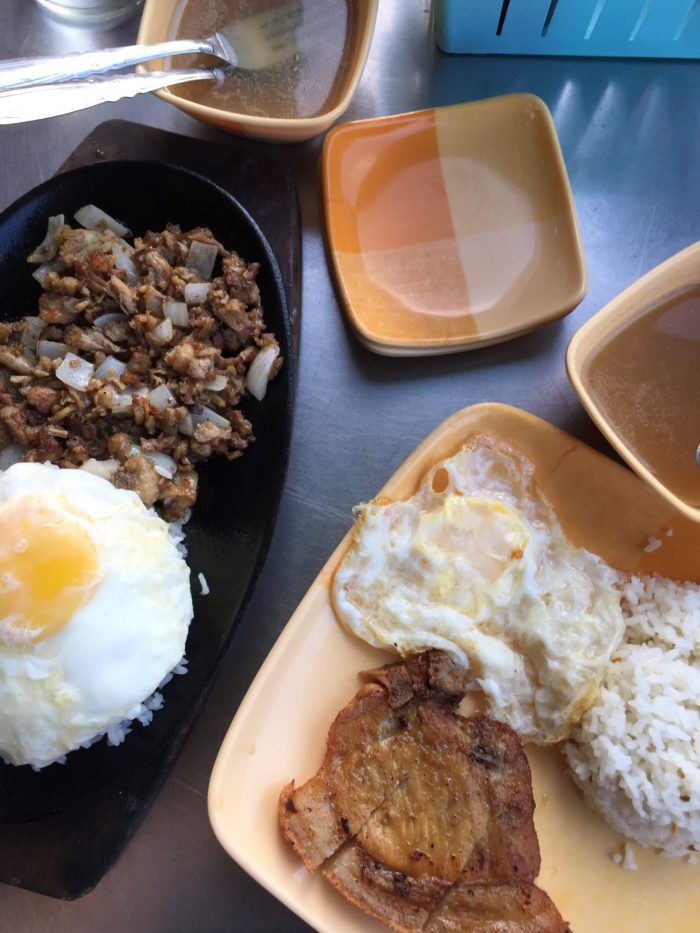 Atoy's United San Pedro branch also serve liempo and chicken sisig. The chicken sisig is really good. I didn't try the liempo just because I find liempo too sinful; its fat-to-meat ratio is diabolical.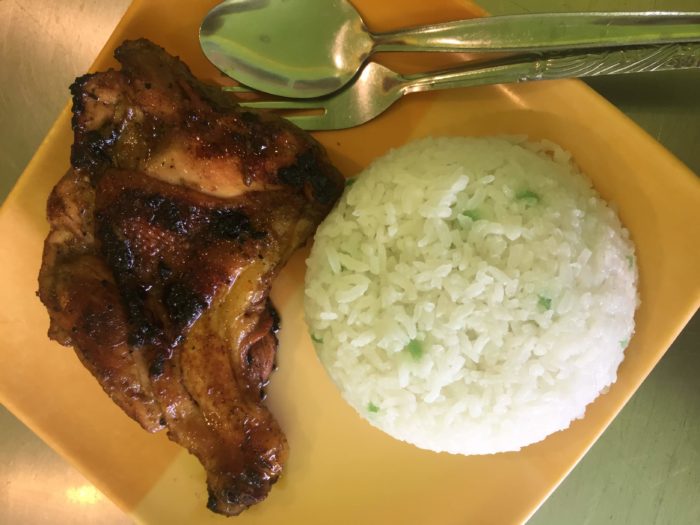 It's worth noting that Atoy's is diversifying (because why not?), with a new-ish 'concept' in Sta. Rosa, where they serve chicken inasal. I will be very honest when I say there's nothing special about it. Always go for their porkchops.
Branches visited, in order of appearance, with commuter-friendly directions

Atoy's Porkchop, San Pedro, Laguna: If you see any bus along EDSA bearing the Pacita/San Pedro signage, get in. The branch flanks the entrance of a subdivision called United, just next to the Muntinlupa-San Pedro boundary, where the gaze of two roosters cast in stone greets you.

Atoy's Porkchop, Calamba, Laguna: Any Sta. Cruz-bound bus stops at Letran Calamba. You won't see it from Jollibee – you have to cross the street to the Total gas station, and walk ten steps to see the stall. Much to my dismay, this branch has such irregular operating hours – they open as early as 11AM or as late as 4PM.

Tuding's Porkchop, Calamba, Laguna: This is right next to the Jollibee branch in Real, Calamba. It's a stone's throw from an industrial complex in Calamba known to everyone as Science Park (Light and Science Park II), the first landmark from the SLEX Calamba exit.

Atoy's Inasal, Balibago, Sta. Rosa, Laguna: If you're commuting from Manila, take the LLI bus bound to Sta. Rosa/Balibago in Gil Puyat, then get off at the first stoplight from Sta. Rosa exit – it's right across Walter Mart.