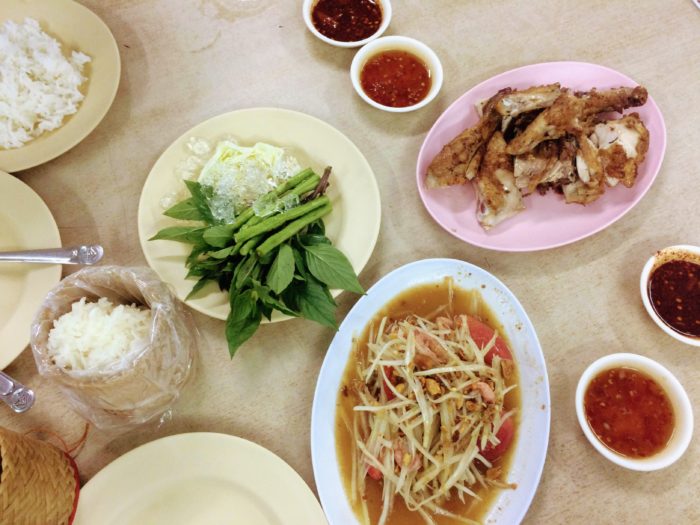 Wherever you are in Bangkok, find the nearest BTS train station and get a ticket to Ekkamai (N7). A twenty-minute walk from the station will take you to a joint not different from the ones you can find in storied restaurants in Binondo: rickety chairs and tables, plastic plates, floor-to-wall tiles, dusty portraits of founders and illustrious patrons in sepia or old rose, framed newspaper clippings, and a local clientele. Only when you see the framed photo of their illustrious King Bhumibol Adulyadej behind the cashier will you know you're in Sukumvhit – at Nomjit Grilled Chicken. The store's sign won't say this – nor would Google Translate, nor would their menu, nor would the delivery boy hauling off absurd amounts of takeaway food at the back of his motorcycle when we bumped into the restaurant – so a little faith in Google Maps goes a long way. Or: beam the Thai name (Nomjit Kaiyang: น้อมจิตต์ไก่ย่าง) on your smartphone to trusty 7-Eleven cashiers whenever you're lost.
Every Thai assumes I'm Thai, just as every Southeast Asian assumes I'm a native of their country, so I'll have to make a clueless face clueless waiters to merit a menu in a clear black folder. My friend and I couldn't help but rejoice: Finally, a menu with pictures! In Thailand! Nomjit must have had a fair share of People Making Clueless Faces.
I ordered what a food blog calls their "holy trinity": sticky rice, som tum (a salad of shredded papaya, garlic, toasted peanuts, kaffir lime and lots of chilis) and grilled chicken. Oddly, they serve their grilled chicken with raw vegetables (string beans or sitaw, Thai basil and a quarter of cabbage) topped with… shaved ice. (Why shaved ice? I have no idea.)
Before the dishes are served, the waiters flank your table with a tray of sealed bottles of cold water. Consider it as a first aid kit, and a sign of Thai hospitality: it's a warning for bumbling tourists like me, in case I faint from the heat.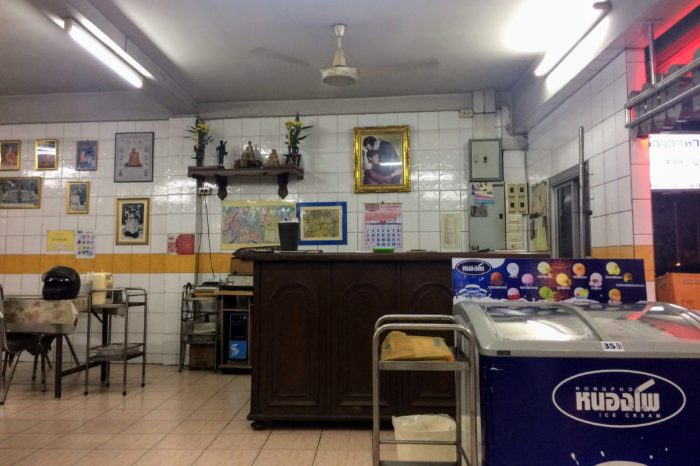 Nomjit didn't incorporate the chicken's comb in their logo for nothing: they specialise in grilled chicken or kai yang, and what we had is ridiculously good. It's the kind that's lightly tossed in fish sauce and ground black pepper, the kind that mothers cook in wide kawali for birthday parties or fiestas in far-flung barrios. However, their version has a mysterious flavor… holy basil or kaffir lime? The skin is addictively chewy, with those browned nubs of flavor clinging to it like glitter, and the meat, having sopped up a lot of the marinade, is delicious when given a quick bath of their hot-and-sour sauce known as phrik, the saucer's surface flecked with chili seeds.
Pair your kai yang with the sticky rice (fragrant, lustrous, lightly stained with the green of pandan leaf) and a spoonful of the tongue-numbing som tum and you would be muttering expletives by the minute. If you tend to sweat like a pig when your taste buds flare up, take a swig of your chosen beverage. Cram another hunk of chicken, a heap of the sticky rice, a sliver of som tum in your spoon, then take another swig. Once the heat subsides, get more som tum. Repeat while trying to stop sniffing. Take pictures, no matter how feverish they may look like.
Nom Jit Kai Yang (น้อมจิตต์ไก่ย่าง)
Address: 332-4 Soi Ekamai 18 Sukumvit 63
Khwang Khlongton Nuea Khet Watthana Bangkok 10110
Nearest BTS station: Ekkamai (N7)
Price range: 200 baht for two people.

Although the walk was long enough to made us doubt about the restaurant's existence, the dishes are worth it. If you have extra baht to spare, try getting a cab. If you're walking, make sure you have a tumbler full of water. There are upscale restaurants, shops and cafes along the way that can make interesting stops.
k